Chicago mayor shames sunbathing gays while rioters take over city
Perhaps they were just peacefully protesting for the joys of summer?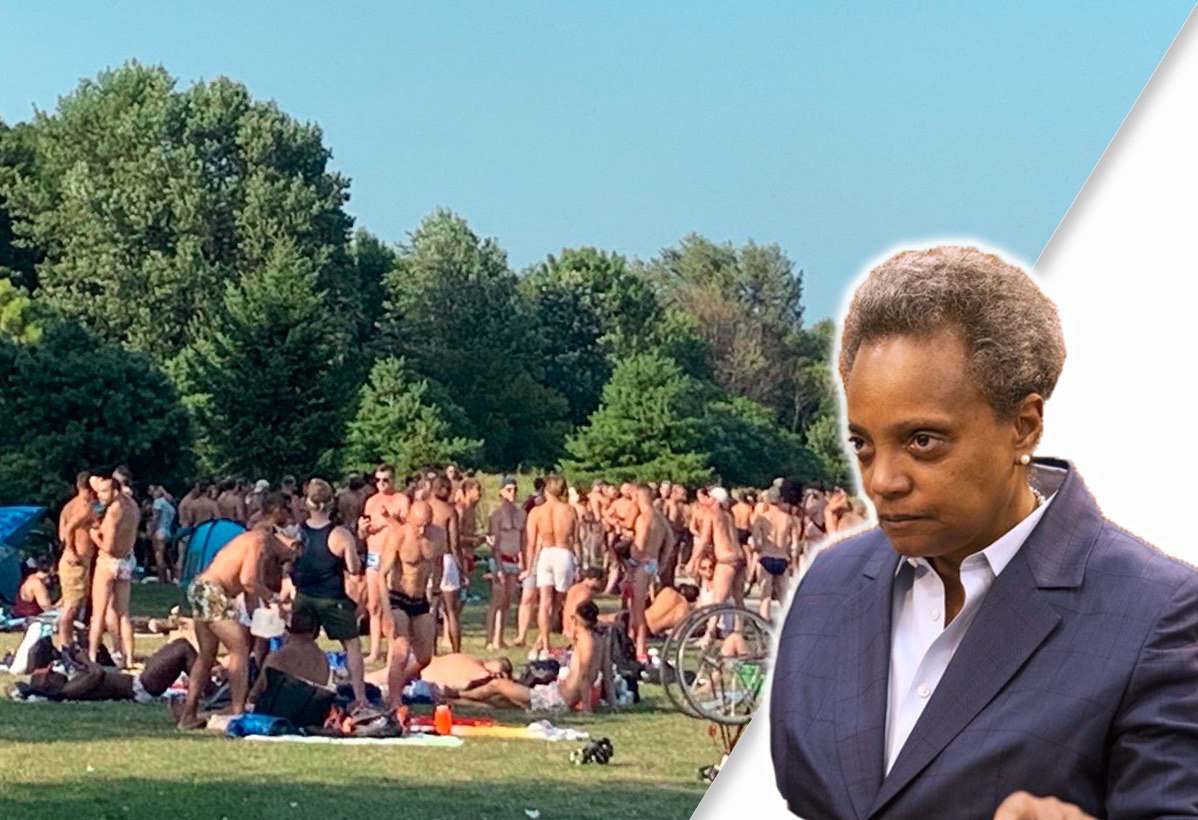 Chicago's progressive mayor Lori Lightfoot took to Twitter on Saturday afternoon to finger-wag toward a group of mostly gay men sunbathing on Chicago's lakefront.
"It's called a pandemic, people," Lightfoot wrote in a tweet. "This reckless behavior on Montrose Beach is what will cause us to shut down the parks and lakefront. Don't make us take steps backwards." She then shared a photo of dozens of people, mostly gay men, gathered in a park wearing swim shorts and splayed out on beach towels and blankets.
The mayor then added, "In case you were wondering, I stopped by to see for myself. It's being addressed."
As of Monday morning the tweet had nearly 19,000 "likes" with almost as many comments, many of which called out the mayor's perceived hypocrisy and asked why she chose to target gay men peacefully enjoying the warm weather on a Saturday afternoon.
"Dear gay community, In case you were wondering: Gays peacefully sunbathing = wrong Chicago looting & destruction = okay Ditch the democrat party. Make the switch," conservative activist and openly gay man Scott Presler wrote.
Others pointed to a tweet from July in which, at the height of the George Floyd riots, Lightfoot declared her "unequivocal" support for "hundreds" of people taking to the street to "express their First Amendment right to protest," leading at least one Twitter user to question how the mayor didn't know the gay men weren't simply protesting "for the joys of summer."
The irony was not lost on Chicagoans and the gay community when shortly after the tweet, the city erupted into chaos and widespread looting in the Gold Coast neighborhood and downtown's Magnificent Mile. Former Trump Cabinet member and ambassador to Germany Richard Grenell also jumped into the fray, sharing a report claiming Sunday night's looters showed up in shopping districts with U-Haul trucks rented, and writing, "@LoriLightfoot wants to stop the gays from sunbathing – but she allows riots and looting to go unchecked. Unbelievable"
In the early hours of Monday morning hundreds of rioters swept downtown Chicago looting stores, smashing windows and clashing with police officers. Over 100 people were arrested and 13 officers were injured. The night of chaos followed an officer-involved shooting in the Englewood neighborhood. An Apple store, Tesla showroom and dozens of other retailers were hit by the mob in the outburst that began shortly after midnight. Aerial footage shared by WGN News showed vast destruction left by looters outside a Best Buy store in the Goose Island neighborhood.
Chicago has had one of its bloodiest years on record since Lightfoot assumed office. Last weekend, 33 people were shot in the city, nine fatally. In July alone, the city saw a 139% increase in murders from the previous year. That month, 573 people were shot, including 58 juveniles and children, according to the Chicago Sun-Times. The city has had over 430 homicides this year alone, up 51% from 2019.