Gay activist blasted 'incompetent idiot' Fauci during 1980s AIDS crisis
Larry Kramer wrote an open letter to Fauci calling him and the National Institutes of Health "monsters" and "murderers."
A vitriolic smackdown of Dr. Anthony Fauci's work with the AIDS crisis has resurfaced showing the nation's top infectious disease expert criticized for missteps over and over again during his tenure as Director of the National Institutes of Health's (NIH) National Institute of Allergy and Infectious Diseases.
In 1988, gay activist Larry Kramer wrote an open letter to Fauci calling him and the National Institutes of Health "monsters" and "murderers." Kramer, who was the catalyst in the founding of the AIDS Coalition to Unleash Power (ACT UP), became the most prominent face of AIDS activism for decades to come. He passed away in May 2020.
The news outlet LifeSite recently published a story chronicling how Fauci's failings during the AIDS crisis of the 1980s mirrors his failings dealing with the COVID-19 pandemic.
In the earlier days of the pandemic, the antimalarial drug hydroxychloroquine was hyped as a possible treatment for the virus. However, it was continuously and systematically dismissed by Democrat politicians and Dr. Fauci. In fact, the chairman of Children's Health Defense Robert F. Kennedy, Jr. said during a video discussion with Dr. Peter McCullough, Vice Chief of Medicine at Baylor University, earlier this year, "We've seen this very strange conflict … that many of those treatments that could save lives, instead of being promoted and investigated and studied by the health authorities, are instead being sabotaged and made … inaccessible."
During their discussion, McCullough also mentioned that over 30 countries around the world used the drug as a treatment and it seemed to have positive results. He condemned the policy in the U.S. pushed by Fauci, saying, "the average person in Texas thinks there's no treatment for COVID-19. They get handed a test result. They're given no treatment. They're given no information, no access to research, no hotline. They're given no follow-up. They're told to go home, wait until they can't breathe, and then go into the hospital, become hospitalized. Many patients never see their loved ones again. This is an absolutely horrifying experience. And two hours south of us, they would get a treatment kit from the government and they'd be eased through the illness."
Similarly, Kramer claimed in his open letter that in the 1980s the NIH and Fauci dragged their feet in testing treatment drugs for AIDS. He slammed Fauci saying, "It doesn't take a genius to set up a nationwide network of testing sites, commence a small number of moderately sized treatment efficacy tests on a population desperate to participate in them, import any and all interesting drugs (now numbering approximately 110) from around the world for inclusion in these tests at these sites, and swiftly get into circulation anything that remotely passes muster. Yet, after three years, you have established only a system of waste, chaos, and uselessness."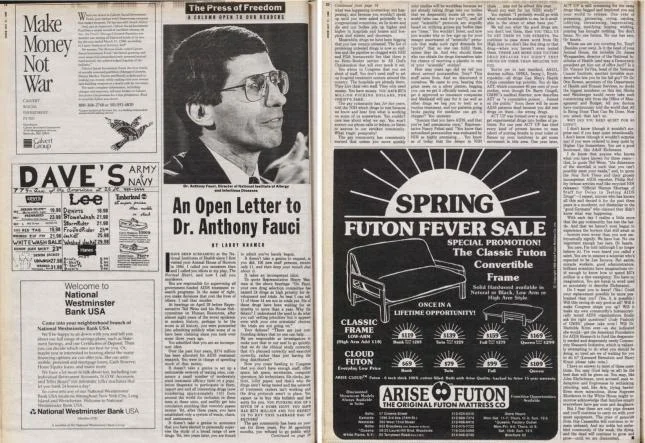 Kramer continued in his impassioned speech–which was published in the Village Voice on May 31, 1988–using very deliberate epithets blaming Fauci directly for the deaths of countless gay Americans. He wrote, "You continue to pass down word from On High that you don't like this drug or that drug — when you haven't even tested them. THERE ARE MORE AIDS VICTIMS DEAD BECAUSE YOU DIDN'T TEST DRUGS ON THEM THAN BECAUSE YOU DID."
"At hearings on April 29 before Representative Ted Weiss and his House Subcommittee on Human Resources, after almost eight years of the worst epidemic in modern history, perhaps to be the worst in all history, you were pummeled into admitting publicly what some of us have been claiming since you took over three years ago. You admitted that you are an incompetent idiot," he continued.
Most recently, Fauci has found himself in hot water with allegations that he was working with a lab in Wuhan, China. Fox News reported that in a Senate hearing this week, Senator Rand Paul (R-KY) suggested that Fauci was conducting what's called "gain of function" research, "which works on making pathogens deadlier or more easily transmissible," using funding from the NIH.
Fauci responded by denying the insinuation and saying, "The NIH has not ever and does not now fund gain of function research in the Wuhan Institute of Virology." Senator Paul pressed Fauci further citing that a top doctor in Wuhan claimed that it was possible that the virus escaped from a lab. Fauci did not deny that it was a possibility, but he affirmed, "I will repeat again, the NIH and NIAID categorically has not funded gain of function research to be conducted in the Wuhan Institute of Virology."